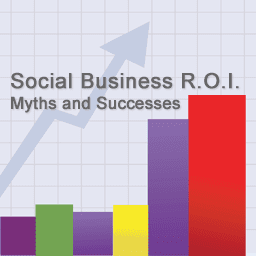 Facebook is the 850 pound gorilla of social media. With over 850 million active users, Facebook is rapidly closing in on being used by one in every seven people on the planet. From subsistence farmers in rural Africa accessing Facebook on their mobile phones, to tweeting protestors in the Middle East, to grandmothers living in Michigan sharing their family photos on Flickr, it seems that almost everyone is living a part of their life on a social network.
In some of our more recent articles, we've been writing about Social Business ROI and that enterprises typically achieve highly desirable business outcomes through carefully planned and executed social channels.
Businesses have flocked to join their customers on these social networks, but some are still skeptical about the social media craze. The question that presidents and CEOs keep asking their marketing departments (and it's a question that marketing departments often have a hard time answering) is, "What is the return on investment in social media?"
Some business people take this question even further, asking the more cynical "Is there a return on social media, or does social media have more marketing bark than bite?"
While the skeptics make some valid points, social media ROI does exist and it can be measured. Some businesses are already doing just that. Here's a closer look at the myths surrounding social media ROI and the businesses that are proving the skeptics wrong.
Three Social Media ROI Myths
Some social media marketing myths still persist despite the growing understanding of how to use the new marketing channels. Here are three of them.
1. Social media is free.
Signing up for a Facebook page or a YouTube channel may be free, but that doesn't mean social media is. At the very least, successful social media content still takes time to plan and develop, and someone in the business is being paid for that time. However, the good news is that once a social media marketing strategy has been decided upon and people have been allocated to the project, the cost of social media remains relatively flat, while profitability increases over time. Whether or not profitability happens, though, totally depends upon the success of the social media campaign.
2. It's impossible to assign a monetary ROI value to social media marketing.
Although marketers are still learning how to measure the ROI of social media efforts, stating that the monetary value of a social media campaign cannot be measured at all is not true. As you will see in the next section of this article, many businesses are already successfully measuring the dollar-value of their social initiatives.
3. Social media costs more than it makes.
This is a "myth" that is actually true–for businesses who are poorly executing social media campaigns because they don't understand their audience, don't understand their technical tools, or just don't understand social media itself. Businesses who do not invest the time it takes to learn about their audience, how to grow that audience, and how to interact with that audience will ultimately spend more on social media than social media brings back to them, but this is not the fault of social media itself.
Six Examples of Social Media ROI
Want to see some recent concrete examples of businesses who are measuring the results of their social media campaigns? Try these on for size:
1. Best Buy's innovative "Twelpforce" enlists knowledgeable, everyday employees to answer customer support questions via Twitter. Best Buy estimates that this "social help desk" saves them $5 million annually in support. [1]
2. Bonobo's social business became 13 times more cost effective (CPA) in acquiring a new customer from Twitter than from other marketing channels. [2]
3. Paramount Pictures' #Super8Secret (hashtag) Promoted Trend created a tremendous spike in conversations: Tweets of the hashtag reached nearly nine million impressions in less than 24 hours and mentions of the movie skyrocketed to more than 150 per minute. Receipts for the sneak preview exceeded $1 million, and Paramount said weekend box office surpassed expectations by 52%. [2]
4. Petco's 1% of shoppers use "Ask and Answer," that influences a 10% increase of revenue on their website. [3]
5. Sprint's monitoring of online conversations about their brand enabled them to tweak their social media campaign messaging. As a result, the company says it picked up an extra $133 million in revenue. [4]
6. Sephora Community Users spend 2.5 times more than average customers, and their superfans spend 10 times more. [1]
Example Sources:
[1] Lithium Technologies, 2011
[2] Twitter, 2011
[3] Altimeter Group, 2011
[4] MotiveQuest, 2011
These are just six examples of hundreds of big brands that are successfully measuring the real financial impact of their social media initiatives. If you want to explore these and other examples, contact 4thWeb.
Return to top: Social Business ROI: Myths and Successes
Do you have your own social business or social media ROI story or thoughts? Share it in the comments section below.